---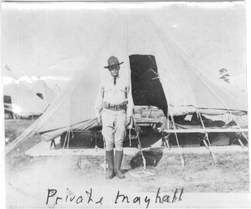 Left: Grandee was assigned to be the General's orderly this day at his first National Guard camp.


Above: Grandee, the three-stripe sergeant, at Camp Blanding, Fla., in the spring of 1941. Below: "Would-be lieutenants" -- Grandee and "Wolf" Riser -- posing in their gear.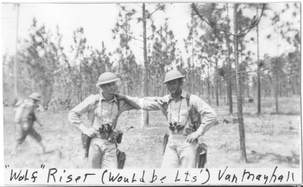 Left:Grandee with his officer's web equipment after passing the test for promotion to second lieutenant.

In the summer of 1941, Grandee's platoon went on training maneuvers in various locations in Louisiana. First photo: A group of platoon members, nearly all of whom became officers in one service or another. The first man from the left, Crochet, was killed in action at Salerno. The man next to him, Hunley, was killed in action during the Normandy invasion. Second photo: Several soldiers take a break with the New Orleans, Louisiana, newspaper, the Times-Picayune. Grandee is in the foreground. Behind him is Crochet, and Hunley is kneeling behind Grandee's right shoulder. Third photo: Catching rest where he can is Lt. Baynard (foreground) as the platoon spends the night in a graveyard.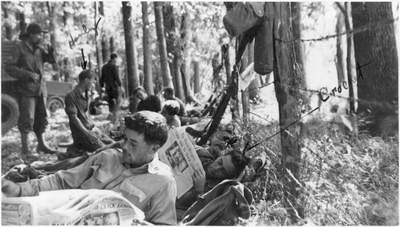 [Home] [D+66] [Links] [Stories] [Photos]
---
Comments or questions? E-mail Robin Mayhall.
---