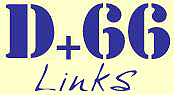 ---
On this page, I've collected links to other sites related to World War II and veterans' stories. Please feel free to e-mail me with your suggestions for links, or if you have a related site and would like to trade.

We are proud members of the National World War II Museum in New Orleans
Fight the Mesothelioma Survival Rate by arming yourself with the Mesothelioma Cancer facts you need.
Note: This ad helps pay for this site, sort of. (It generates maybe three cents per year!)



[Home] [D+66] [Links] [Stories] [Photos]
---
Comments or questions? E-mail Robin Mayhall.
---