---
or more than 10 years, starting when I was in college, I "helped" my grandfather, Van R. Mayhall, Sr., USAR Col. (ret), collect his memoirs. I get entirely too much credit for this project, for although I did urge Grandee on somewhat, he was the one who put in all the effort of remembering, researching, and writing down the amazing tales he has to share of his life and especially his World War II experiences. His stories of growing up in Baton Rouge, Louisiana, are fascinating, but his memories of his wartime experiences are particularly vivid. Grandee trained at several locations in Florida and Louisiana, including starting his service at Camp Blanding, Florida. He served in the European theater, including landing at Omaha Beach on D+66, and was separated from service on Sept. 22, 1945, at Ft. Sam Houston in San Antonio, Texas, although he remained in the reserves until his retirement.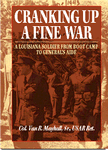 My grandfather's story is now a published book! A publishing company called ByrenLee Press released Cranking Up a Fine War: A Louisiana Soldier from Boot Camp to General's Aide in May 1999. The book has been favorably reviewed in several publications and has sold well all over Louisiana and Texas, not to mention the world! The book is dedicated to my grandmother Marie, whom our whole family dearly loved, and who passed away on February 6, 2002.

Interested in the people and places of the book? Read A Visit to Cheltenham, by Tom Lee, grandson of Lt. Gen. John C.H. Lee, under whom my grandfather served at one point in Cheltenham, England. Tom Lee recently revisited Cheltenham and was kind enough to send this account of his trip.

Grandee has been interviewed on the radio on stations KENZ in Salt Lake City, WRJZ in Nashville, KTDC in Walla Walla, Wash., and WJBO in Baton Rouge. Most recently he appeared with Baton Rouge talk show host Fred Dent on WRKF in May 2004. He also has been interviewed by Eliot Stein of SteinOnline (you can still hear the transcript of the interview at this website if you have RealAudio). The book has been reviewed in the Baton Rouge daily newspaper, The Advocate; the society weekly "InRegister;" and "South Baton Rouge Journal," and in the online publication January Magazine.

With his 85th birthday rapidly approaching, Grandee stays active, running errands for his two grown daughters, entertaining some of his 13 grandchildren (who range in age from 6 to 34), doing volunteer work in the community and speaking to groups such as Rotay clubs and veterans' organizations. One of his stories of growing up in the Deep South during the Depression was published in May 2004 in the Sunday Magazine of the Baton Rouge Advocate.

You can read excerpts from my grandfather's memoirs, as well as some of his stand-alone short stories and vignettes, here on this website (click on Stories below). If you would like to order a copy of Cranking Up a Fine War, it is available through the methods below:

Online at one of these websites:

Directly from the distributor, D+66 Books:
Just send a check or money order for $24.95 to:

D+66 Books
PMB 165
7635 Jefferson Hwy.
Baton Rouge, LA 70809

Note: Please do not order this title from the publisher, ByrenLee Press, as it is now being handled solely by D+66 Books.
If you want to write to my grandfather, you may contact him via e-mail. He loves to hear from people, and actually HAS heard from folks all over the world. I would also love to hear your comments myself.


Top: Grandee at his desk at ETO Headquarters in England, June, 1944. Above: Grandee and my grandmother Marie Roques Mayhall as newlyweds in 1942; below that, Marie and Grandee at a party celebrating their 50th wedding anniversary. Sadly, Marie passed away on February 6, 2002.



[Home] [D+66] [Links] [Stories] [Photos]
---
Awarded

Comments or questions? E-mail Robin Mayhall.
---