My Second TKR
Update: March 6, 1999. Greetings everyone! I know that visitors to this site will be anxious to hear how my second TKR went, and I'm pleased to say it went extremely well! I don't have pictures ready to put up yet - that will take a few days - but I did take some pictures, and tried to get some new shots this time. For now, I'll have to just give you the written update.

My father came to town again to be with me for the surgery. He and my roommate, Carol, brought me to the surgical center at 8 a.m. on Wednesday for a 9 a.m. surgery. Everything went as smoothly as before. Once again, the surgery lasted about an hour and a half and was a big success. The implant fit perfectly once again. I'm beginning to think that has a big influence on how well things go. My surgeon was very pleased with the results.

My family feels like I recovered faster this time. They say I was more coherent and less groggy pretty quick after the surgery. I do remember having some pain for a few hours after I woke up. It seemed like, again, they had trouble deciding what painkiller would work the best for me. It turned out straight morphine shots did the trick. I didn't sleep too well the first night, but the second day (Thursday) I was already feeling better. I had lots of visitors and phone calls, and of course, the physical therapists came and got me up and walking at midafternoon.

That went really well, and I did much better Thursday night and Friday morning. I did so well, in fact, that the doctor agreed to discharge me and just send me home instead of to rehab. I did have to bring the CPM home and I have to be in it 8 hours a day as well as doing my exercises. But that is no problem. As I mentioned, I am already walking without a cane or crutches and feeling great.

Update: March 9, 1999. Pictures! Below at last you can see the pictures from my second (left knee) TKR. As before, just click on the picture to see a larger version.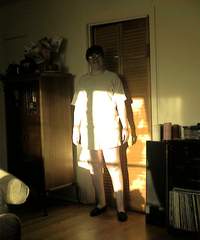 Here I am in the morning before leaving for the hospital. So happy to be starting the process!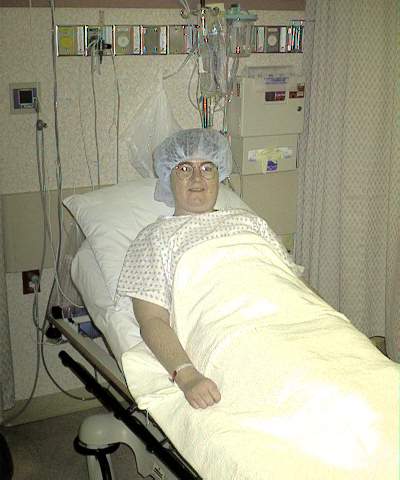 This picture is still before surgery. I asked my dad to take a picture of me in the preop ward as the nurses were getting me all prepared to go in.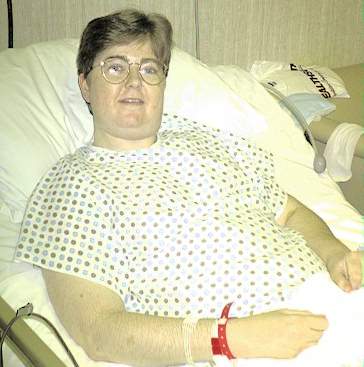 Here I am a couple of hours after surgery, looking none the worse for wear!

Here are two different views of the CPM machine. On the left you can see me all hooked up in the hospital, and on the right is the CPM set up in my bed at home. A lot of people have asked me about the CPM, and all I can say is it's a very gentle machine. There might be, at most, a very small amount of pain involved at first, but it's tolerable. It moves very slowly, and really helps the knee stay flexible.

My grandparents came to Austin from our hometown of Baton Rouge to help me for a few days after my surgery. Here I am posing with them in my fashionable TED hose (the TED hose are worn to help prevent thrombosis - blood clots - during surgery, and you have to stay in them for a couple of days after the procedure). I think this picture was taken on Saturday - just three days after surgery!
Continue to check back, as usual - I will certainly continue to add updates as needed.


Continue following the story on my Updates Page!
or
Visit the On Our Feet Joint Replacement Forum